| | |
| --- | --- |
| November 2014 | |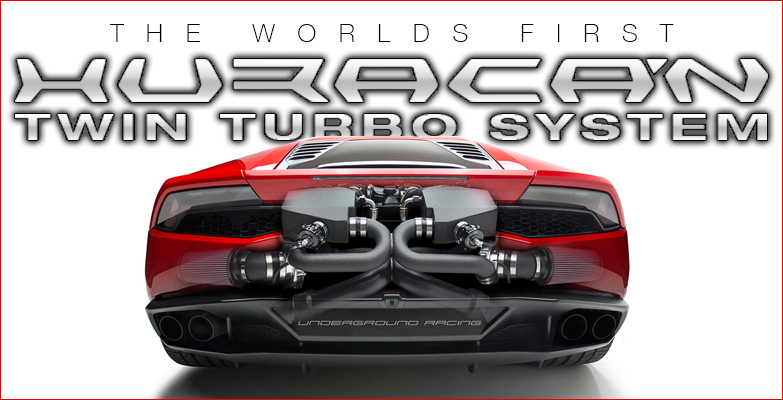 Lamborghini has once again raised the bar with the creation of the Huracán LP 610-4. Hidden behind the new astonishing look of this Lamborghini lies a plethora of new technology. Technology like the AWD system that features an electronically controlled front differential similar to the Aventador, electro-mechanical power steering (EPS), dynamic steering (LDS), V10 engine configuration similar to the Gallardo featuring dual injection, launch control and a 7 Speed LDF dual-clutch transmission. These new features combined with the high definition instrument displays and perfected interior make for an exciting and fun video game like drive every time you get in the driver's seat.

Now, how do you make such an amazing car even better? Easy, just add Underground!

It is with great pleasure that Underground Racing introduces to you the very first Twin Turbo Lamborghini Huracán LP610-4. Preliminary testing has been a great success. Driving an Underground Racing TT Huracán is something that can only be experienced, not explained. Driving away on launch control with the help of some boost, that is controlled via our proprietary JRR MoTeC M1 electronics and firmware, and snapping through the gears of the DCT transmission with the additional horsepower is just that, an experience.

The Underground Racing TT Huracán will first be available as a bolt-on system, with the proceeding stages already in the works and soon to be announced.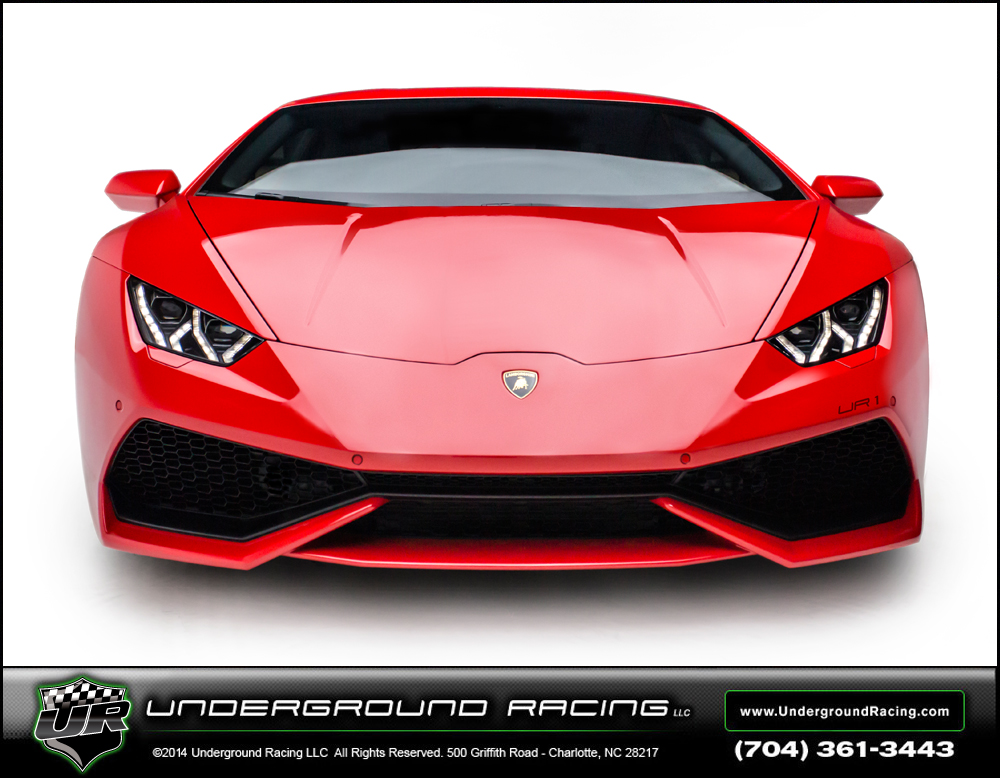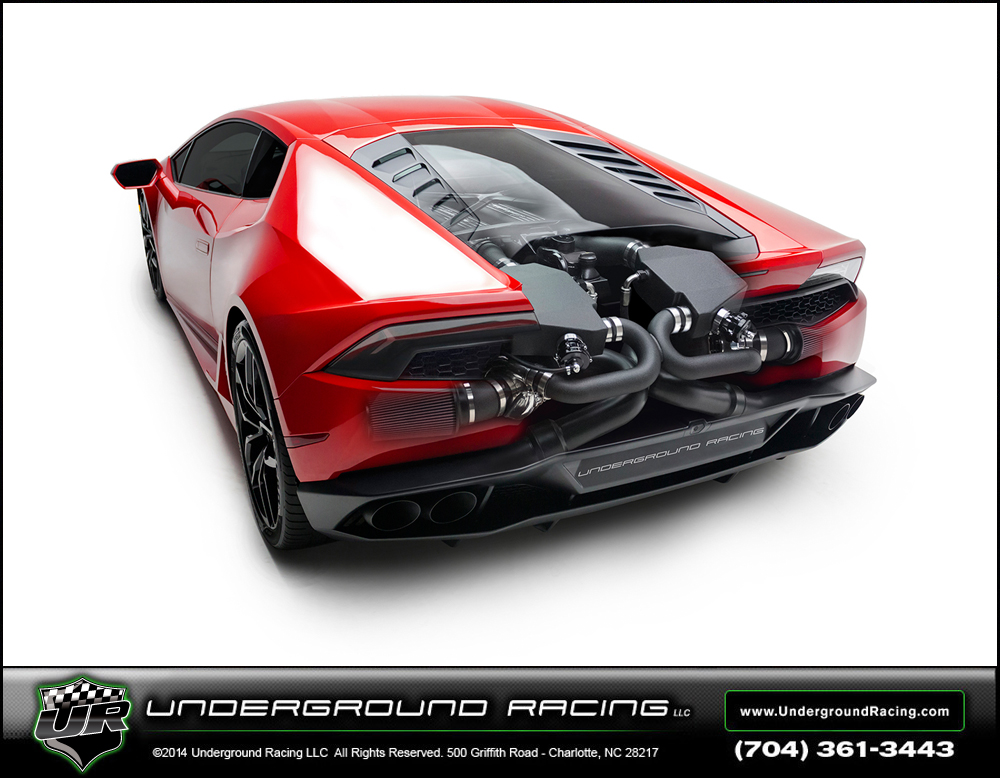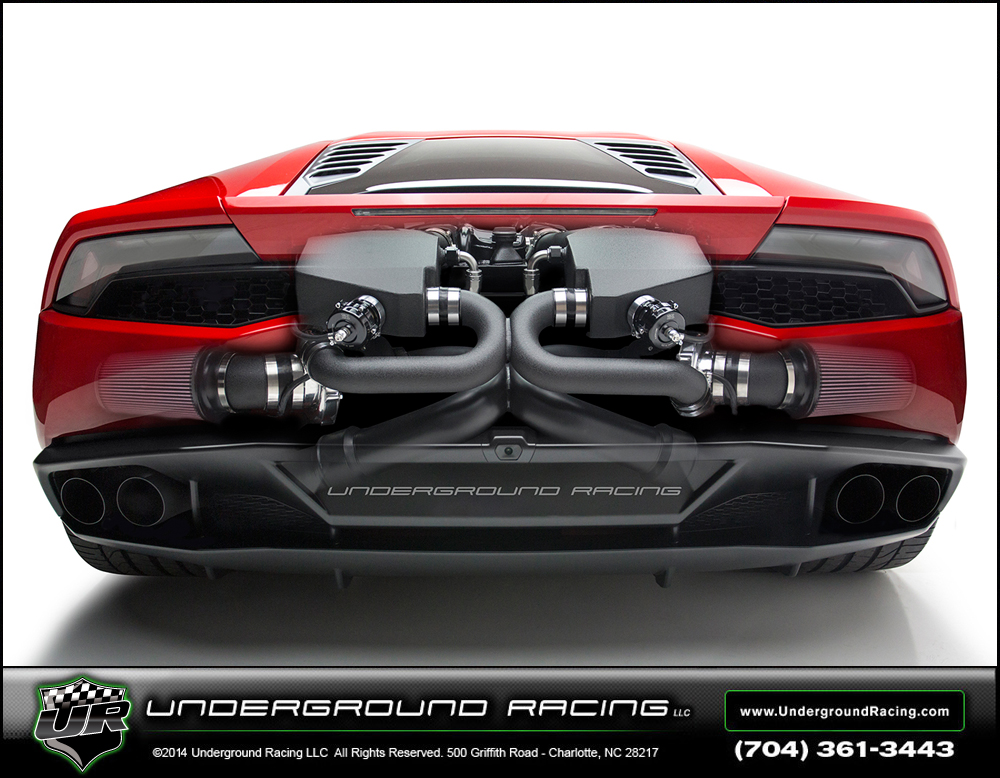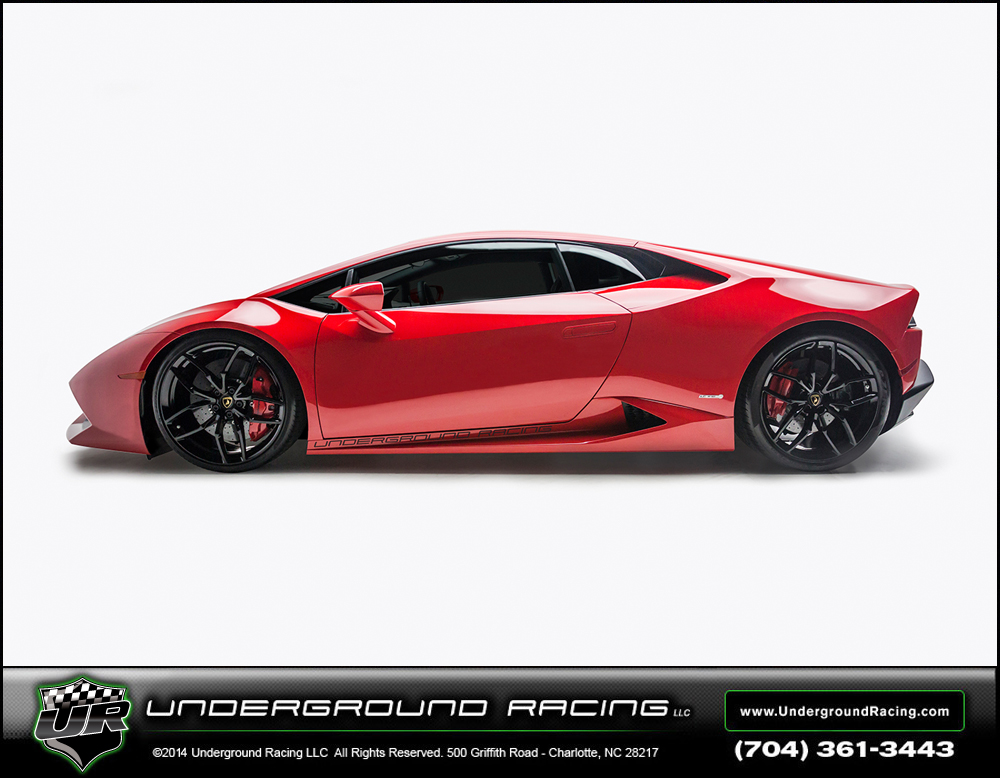 DUSTIN'S UNDERGROUND RACING TT GALLARDO
WINS WANNAGOFAST GA EVENT

Special Thanks to Dustin Hawks and Marty Robertson for showcasing their Underground Racing powered exotics this past Saturday at Wanna Go Fast GA. Dustin's Lamborghini Gallardo LP570-4 Twin Turbo ( driven by Dustin and Kevin on different passes ) won the event with top speeds of 219.5, 219.2 and 218. Marty's Audi R8 GT Twin Turbo (driven by KC Howeth) was there testing some new upgrades for an upcoming event. The R8 made several partial runs and only one full pass going 209.49 mph and that was only getting into WOT starting around half track! Also, as always a big thanks to all of our vendors and the entire Underground Racing Team that makes this all possible.




Dustin's Underground Racing TT Superleggera set the event record at 218 mph, and then backed it up with 2 passes over 219 mph. Dustin's car is 100% a street car. It's also using the factory E-gear electronics. Keep in mind that the elevation was near 3,000 feet and it was hot with around 90% humidity. These cars are going to fly closer to sea level with better weather. We were glad to see Dustin get this win given that it was near his home town of Atlanta, GA. Expect more videos of Dustin's TT Lamborghini at the Texas Invitational next weekend. The R8 never got a full pass, testing some new stuff, more coming soon from that beast;) Special thanks to Dustin and Marty for bringing their cars out.





UNDERGROUND RACING WINS THE 6 SPEED CHALLENGE AT THE TEXAS INVITATIONAL

Huge congrats to Jason "Mullet" for winning the 6 speed challenge in his Underground Racing TT Gallardo. Also congrats to Stacy and Tag for 2nd and 3rd place in their Underground Racing TT Lamborghini's. We put together a video with a few of everyones runs.





DUSTIN'S UNDERGROUND RACING 2R TT SUPERLEGGERA AT TI

Here is a short video of Dustin's Underground Racing 2R TT Gallardo at TI. This was his first time at the event. Dustin did a hell of a job racing his street car with the big boys of the TI event. He even beat me! Keep in mind that Dustin's car is a true street car that is ODB2 compliant. It also uses the factory Egear control system. This TTG could have left Texas and drove to California and back home to Georgia. He was also running on R888 street tires through the entire event, like the rest of his teammates. Huge thanks to our team and John Reed Racing.





---------------------------------------------------------------------------------------------------------------


- It's our intention for this newsletter to keep you up-to-date on what's new at Underground Racing. We hope you have enjoyed this newsletter and are looking forward to the next issue. Be sure to add your friends to our subscription list at undergroundracing.com. If you have any feedback please let us know at info@undergroundracing.com

ADDRESS:
Underground Racing LLC
Charlotte, NC

PHONE:
1-704-361-3443

EMAIL:
info@undergroundracing.com

Underground Racing LLC - Custom Engine Management and Twin Turbo System fabrication and installation on Lamborghini Gallardo LP550-2 LP560-4 LP570-4 Murcielago LP670-4 Aventador LP700-4, Ferrari 458, F430, Audi R8 V10, and Dodge Vipers.
Underground Racing Motors LLC - New and Pre-Owned Exotic car sales.